$
AP4C
Universal Chemical Detector
Excellence in CBRN threat management
The AP4C is a combat proven flame spectrometer detector with industry leading capabilities that is used worldwide in over 75 countries and counting. It can detect a broad range of conventional and detect a broad range of conventional and unconventional threats.
Designed for field use, the AP4C takes the complexity out of the equation: one single ON/OFF button, no settings or menu, no field calibration and filter. The entire detection process is completely automatic. Thanks to its unique technology, the AP4C has the shortest recovery time even after being exposed to high concentration of chemicals.
AP4C has the highest user availability rate on the market. An annual check is the only required maintenance operation. No need to regularly start the detector to keep it operational.
DT AP4C 01 EN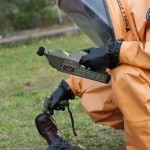 Key features
Easy to use, fully automatic
Quick start-up and response time
No library / no filters
Simultaneous detection
Liquid, gas, dust detection
Operates under challenging conditions (dust, humidity, temperature)
Application
Military Forces
First responders
Law enforcement
CBRN specialists
HazMat teams
Customs and border protection
Detection
All nerve agents
All blister agents
All blood agents
All NTA such as Novickok
Choking agents
Numerous toxic industrials
Content
Each set comes ready to use with all accessories and consumables neatly packed in a waterproof Pelican case.
Kit options
UC AP4C : standard kit with S4PE liquid sampler and extra consumables.

UC AP4C MleF1 : extended AP4C kit with two S4PE and additional consumables.

AP4C set: low cost option, comes with the AP4C without S4PE or consumables.
Accessories & services
SimToolKit (M2852 E00 000): wireless system for monitoring and training, connects up to 8 detectors
Minibench (M2417 E00 000): refill station for hydrogen cylinders
Prepaid maintenance and extended warranty options available upon initial acquisition
For training, technical support or maintenance, contact us at contact@proengin.com
Specifications
Technology: Flame spectrometry
Detection range: Unlimited, CWA, TICs & TIMS, NTAs, Novichoks, binaries, opioids & Fentanyl
Operating temperature: -25°F to +122°F / -32°C to +50°C
Communication: RS422 interface
Data storage: Internal memory, 530 hours loop recording
Powers supply: Lithium or rechargeable battery
Height: 138mm / 5.43"
Length: 385mm / 15.16"
Width: 100mm / 3.93"
Weight: 2,1kg / 4.63 lb